La producción de ajo de China representa más del 70% de la producción total del mundo. El área de plantación de ajo de China es de aproximadamente 700 mil hectáreas, que representan más del 60% del área total de ajo en el mundo. Las principales bases de producción se concentran en Shandong, Henan, Jiangxi, Guangxi, Anhui, etc. La industria del ajo de China se ha desarrollado bien, y el mercado tiene un amplio espacio. Los compuestos que contienen azufre en el ajo tienen un fuerte efecto antiinflamatorio y antiinflamatorio. Tiene el efecto de inhibición y muerte en una variedad de Staphylococcus, bacilos, hongos y virus. Es uno de los efectos más antisépticos de las plantas naturales que se encuentran en la actualidad.
China es el mayor productor, consumidor y exportador de ajo en el mundo, la producción de ajo en China es de aproximadamente 2 millones de toneladas anuales, con una exportación de 310,000 toneladas, su producción y exportaciones en todo el mundo son ahora más grandes que las de cualquier otro país . El gralic se vende a más de 60 países y áreas en Europa, Sudamérica, Medio Oriente y sudeste asiático y gana la alta valoración entre los clientes. al mismo tiempo, también suministramos ajo fresco, jengibre fresco, jengibre secado al aire, zanahoria fresca, cebolla fresca, cebolla pelada, castaña fresca, maíz dulce, taro fresco, patata fresca, mandarina fresca, uva roja fresca, pomelo fresco, Pera fresca de Ya, chile de Chaotian, polvo de la paprika, manzana fresca y así sucesivamente.
Name

Normal white garlic

Size

5.0cm, 5.5cm

Place of origin

Jinxiang, Jining, Shandong, China

Edibleness

Reducing bacteria, keeping the heart in good condition and immunity.

Certification

SGS;GAP

Supply period

The whole year

Fresh season: early June to mid September

Cold storage season: September to next June

Standard

Class A(suitable to export)

Packing

Loose Packing:

5/6/6.5/7/8/9/10/20KG MESH BAG;
5/6/6.5/7/8/9/10KG CARTON


Small Packing:

120Gx40/4.8KG CTN, 160G*40/6.4KG CTN, 200gx20/4kg CTN with pallet, 240G*42/10KG CTN , 300G*34/10KG CTN ,400Gx20/8KG CTN,500Gx20/10KG CARTON, 900Gx10/CTN,1KGx10/10KG CTN,

4P 200G*12/2.4KG BAG,250Gx20/5KG BAG , 300Gx8/2.4 BAG ,

500gx10/5kg MESH BAG,10P 100G*10/8KG BAG,

Quantity/conveyance

26/27/28/MTS FOR ONE 40RH CONTAINER

Shipment degree

-3°- 0°C

Delivery time

5-7 days after got buyer's deposit

Shipment port

Qingdao Port of China

Main importing Country

UK, Greece, Poland, Russia, France, Norway, Turkey, U.A.E, Kuwait,

Algiers, Arabia, Bangladesh, Thailand, Malaysia, Brazil, Canada, America
Si tiene alguna necesidad, contácteme.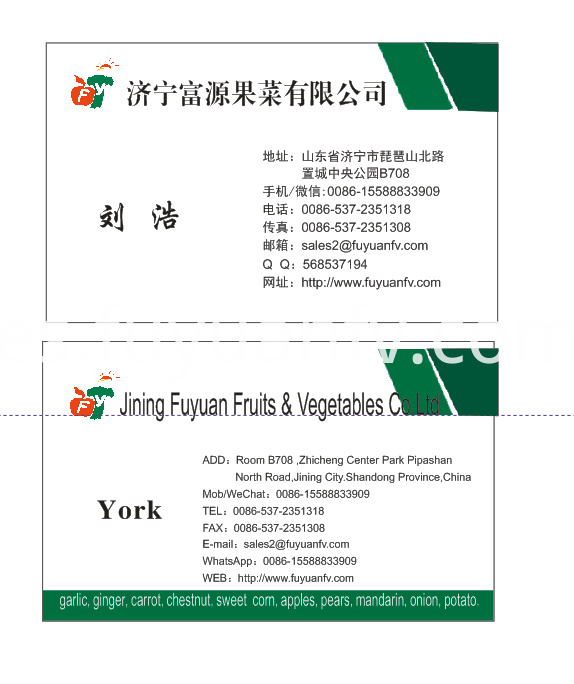 Grupos de Producto : Ajo fresco > Ajo blanco normal 5.0-5.5cm